ESPedit

Creator

The Mortician

Works with:

Resident Evil 2 (PC)
Bio:
ESPedit is a .ESP modding tool developed by Team 96 member and modder The Mortician. It allows the user to not only view the ESP data itself but also to play back that data to test the sprite animations out.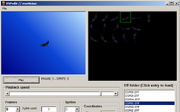 Features:
Allows viewing of .ESP data.
Allows playback of .ESP data.
Allows the editing of ESP data to create custom sprites(next update.)
History:
As of now ESPedit is still in development, Mortician released a test build into the public on March 19th 2014, and intends to continue updating the tool when he has the time.
Links:
ESPedit first initial release candidate: http://z4.invisionfree.com/Resident_Evil_1_2_3/index.php?showtopic=2856&st=15