PRIedit

Creator

The Mortician

Mods

Resident Evil 2 (PC)
Bio:
PRIedit is a mask editing program, created by Team 96 Member and Modder The Mortician.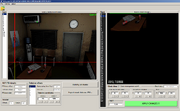 History:
PRIedit first started life as an internal mask editing program created to aid with Team96's Resident Evil: Distant Memories, however on June 11 2013 Mortician put the app into the public domain. It allows the user to open a room's PRI data and edit it (providing that the specific angle has PRI data present.) The interface is similar to those seen in sprite editing programs and programs like RPG Maker, it was done in this way to make the program as user friendly as possible.
Features:
Allows the editing of PRI data.
Easy to use interface.
Allows the importation of custom created mask files created in photoshop or other image editing programs.
Allows custom depth modification.
Allows Exportation of .PRI data needed for external apps for RDT updating.
Links:
Official 123 Modding Forum Thread: http://z4.invisionfree.com/Resident_Evil_1_2_3/index.php?showtopic=2523
Official REMC Topic: http://remc.bplaced.net/phpbb/viewtopic.php?f=43&t=76
Ad blocker interference detected!
Wikia is a free-to-use site that makes money from advertising. We have a modified experience for viewers using ad blockers

Wikia is not accessible if you've made further modifications. Remove the custom ad blocker rule(s) and the page will load as expected.