RE2MV



Creator

Leo2236

Games

Resident Evil 2 (PC/PS1)

3D Apps supported

Autodesk Maya, Autodesk 3DS Max, Blender

Current Version

1.3.1b
RE2MV is a Resident Evil 2 Model viewer and editor created by modder and developer Leo2236.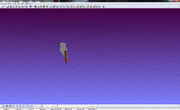 Origins
Originally when modders had to or wanted to create custom 3d models for Biohazard games, they had to use Jums e3d to do so. This was however tedious and hellish to work in mod wise, and as a result there wasn't many mods at the time that used custom created mesh data.
What Leo's tools allows modders to do is export the mesh data into any 3d application of their choosing and do all their edits. They can then import this new data straight into RE2MV and save their changes this will then create a brand new from scratch set of model data.
Development
Leo first showed the tool on the 123 modding forums on June 25th 2012, it is now at Version 1.3.1b
Features
View all *.PLD, *.EMD, *.PLW, *.DO2, *.MD1, *.RDT, *.EMS files from the game...
Play all animations (except those in special models)...
Extract/Repack *.PLD, *.EMD, *.PLW, *.DO2, *.RDT(only extract MD1+TIM), *.EMS(only extract EMD+TIM) files...
View texture(s)...
Edit *.TIM with Tim Composer (it support 128x256 8, 16, 24, 32bpp bitmap)...
View Model texture UV...
Export/Replace texture *.TIM...
Export/Replace whole model to/from *.MD1 or *.OBJ...
Export/Replace model part to/from*.MD1 or *.OBJ...
Export whole model to *.OBJ with part in the correct position...
Move model part...
Take screenshot as *.BMP...
Scale parts of models...
Edit model map UV with "UV editor"...
View texture with transparent...
Export/replace animation block...
Allows the user to view Resident Evil 1.5 model data.
External Links